Space Health Research
Blog
Meili-I:
Final Training Weekend
---

︎ 11 August 2023
︎Written by Jack Gordon
Meili-I launch is upon us!
After months of training in geology and physical fitness, dozens of logistics and mission documentation, the crew is finally ready to go. Last weekend in Wales, we completed the final pre-deployment training for the mission.


Friday evening saw us practising deploying the habitat, somewhat sheltered by the dense woodland. The crew recognised that we will probably have a more difficult time deploying it on Lunga, facing the weather.


We experienced a "good day on Lunga" the following morning, where torrential Welsh rain battered us as we ate breakfast under a tarp, and set off through the hills to the first geological interest site of the day.






We were led through dense ferns, muddy hills and rain by Mission Engineer, Alistair Babington, before arriving at the first rocky outcrop. There we stopped for further hands-on geology training with geology research lead, Arty Goodwin. There is really no substitute for hands-on training, and it really helped to tie everything we'd learnt together. It was beneficial for non-geologists on the crew to see and feel the rocks, and the small details that make them interesting to geologists.


Payload Commander and crew geologist, Megan Hammett says:

"As the mission's geologist, it was great to see the rest of the Meili-I crew put their online geology training into practice - I'm feeling confident we will return from the mission with some exciting new research and data!"
"I'm feeling confident we will return from the mission with some exciting new research and data!"

We navigated to a second geological site for more training, then returned to camp for a Q&A session with Dr Loel Collins, for the Decision Making in High Performance Environments study.


To tie off the day, we did a final geological mini-survey to complete the geological training.






Sunday morning saw the return of clear skies. CEO Myles Harris and Mission Commander Gidon Gautel conducted a virtual dry run of a day on mission, which allowed the crew and mission control to work through final logistic issues and get to grips with the flight plan.


Our final activity before returning home was the distribution of food for the mission. Each analogue astronaut was issued a whopping eight kilograms of freeze-dried food from a varied menu, kindly provided by one of our mission sponsors,

European Freeze Dry

.



CEO Myles Harris had this to say about the training weekend.


"The final training weekend provided an opportunity for Analogue Astronauts and Mission Control Team to pull all of their learning together, test their kit, and complete pre-mission data collection. As the director of Meili-I, I was impressed by how well both teams have prepared for the mission, even when rehearsing data collection in the pouring rain! I am thrilled to be working with such a brilliant group of people who are laying the foundations for space exploration analogue missions in the UK."


By the end of the weekend, morale was high, it was clear that the crew and mission control couldn't wait to get started, we're looking forward to a successful mission.
"I am thrilled to be working with such a brilliant group of people who are laying the foundations for space exploration analogue missions in the UK."
Visiting the European Astronaut Centre
---

︎ 9 August 2023
Two of our Space Health Research team recently had the exciting opportunity to visit the European Astronaut Centre (EAC) in Cologne, Germany. Established in 1990, the EAC is home to the European Space Agency's astronaut corps. Today, it is used to prepare astronauts for flight to the International Space Station (ISS) and beyond. The centre specialises in astronaut selection, training and support.


The two lucky visitors were Dr Aaron Parkhurst and Dr David "Jeeva" Jeevendrampillai. Aaron is Director of Research at Space Health Research and Jeeva is Director of Design and Innovation. Alongside Space Health Research, both work in the Department of Anthropology at UCL. Both Aaron and Jeeva are also Core Project Members of https://ethnoiss.space/

whose purpose is to "critically re-examine our terrestrially based theories." This project has received funding from the European Research Council (ERC). We are extremely proud to have them as part of our team.


On their tour, Jeeva and Aaron began by visiting the astronaut training facilities for the Columbus laboratory on the ISS (International Space Station). The Columbus laboratory was the first permanent European research facility in space. The facility in space offers a chance for European scientists to conduct research in a fully weightless environment -- which cannot be replicated on Earth.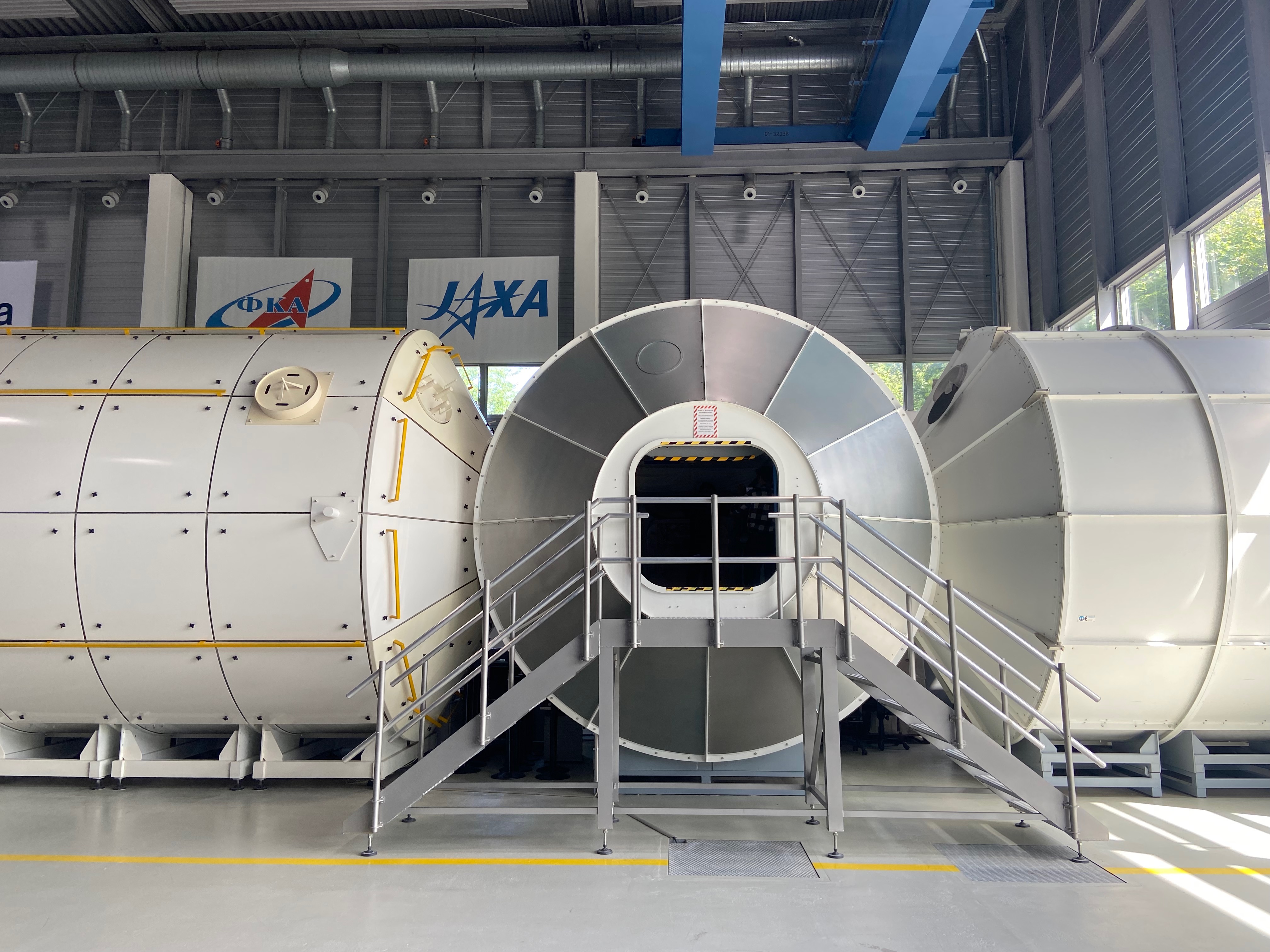 EAC 1: The outside of the Columbus training module at the EAC.



EAC 2: The biolab training module where astronauts prepare for conducting life science research in space.
Next, they observed the medical research facilities (also owned by the European Space Agency) in the DLR German AeroSpace Centre. The purpose of these facilities is to understand the human body in extreme conditions, including off-world.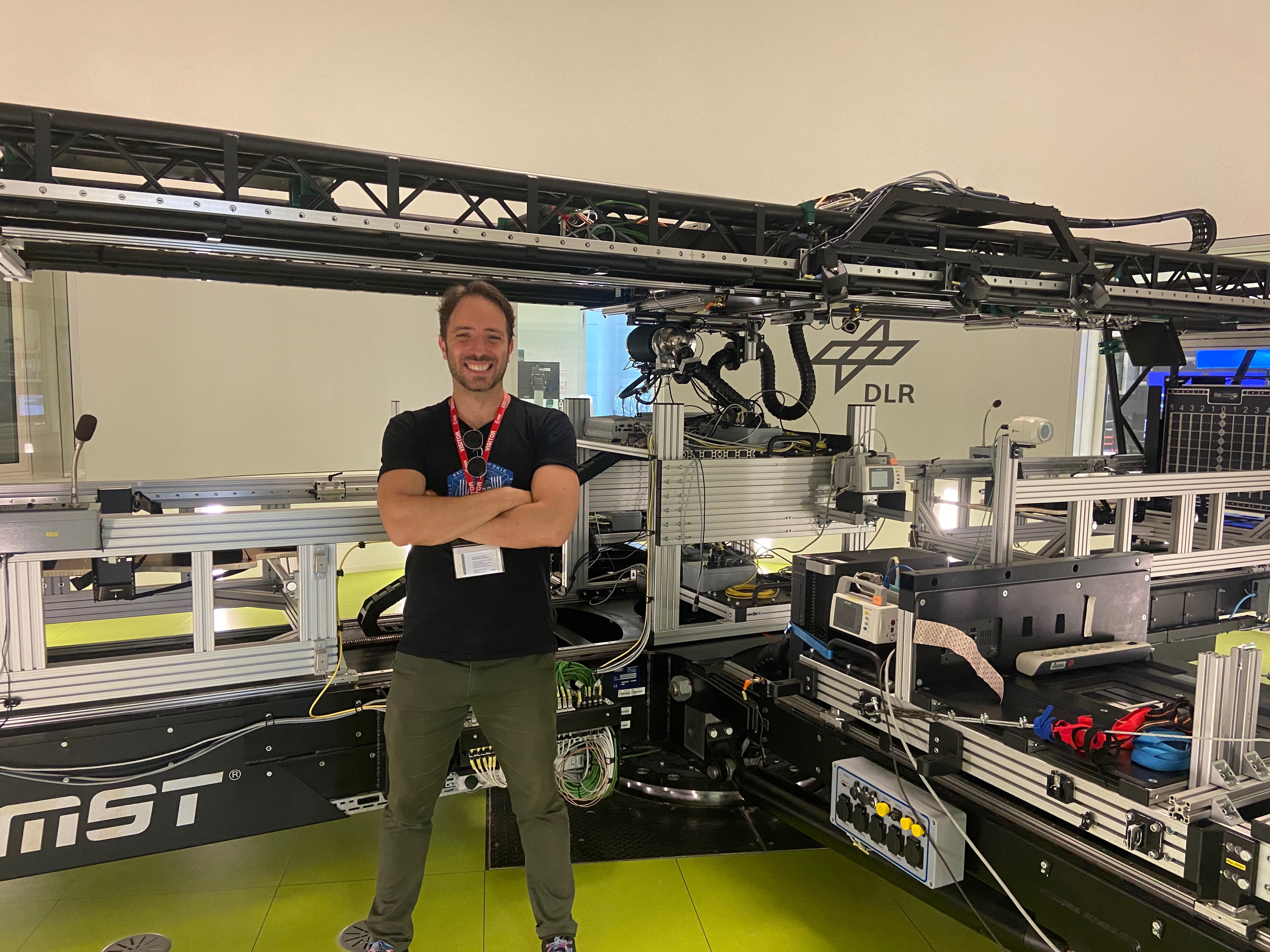 EAC 3: Dr Aaron Parkhurst at the German AeroSpace Centre
In this photo, you can see Aaron with the Next Generation Short-Arm Human Centrifuge. The centrifuge is an extraordinary research facility investigating, among other things, the effects of artificial gravity and hyper gravity on human movement, cognition, sensory motor function, and cardiovascular health. This work is critical in developing countermeasures to health problems off world. In turn this will improve muscle, bone and cardiovascular health on Earth. Excellent stuff.
Along the way, they had the honour of meeting with astronauts and members of the EAC team to understand their work and experiences in space. As medical and social science researchers, Aaron and Jeeva worked with members of ESA and EAC on a wide range of off-world living projects.


We are excited about future collaborations between ESA, Space Health Research, UCL, and beyond...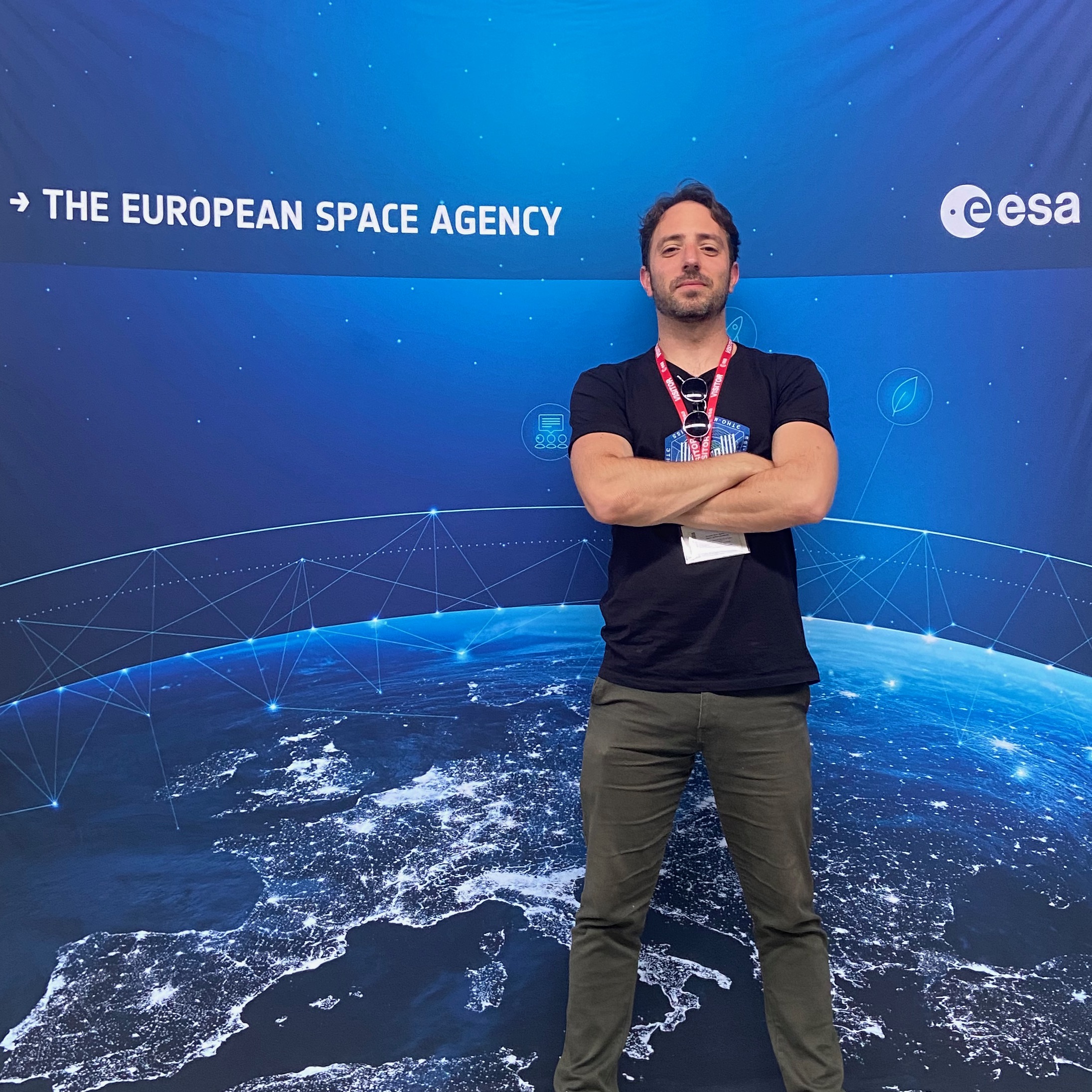 EAC 4:
Dr Aaron Parkhurst at the European Space Agency
Introducing our Partner: Remote Area Risk International
---

︎ 8 August 2023


Remote Area Risk International (R2Ri) is the UK's leaders in Prolonged Casualty Care, Remote, Austere and Wilderness (TM) Casualty Care and remote area risk management education.


R2Ri has been one of Space Health Research's partners since our company's infancy, and has provided us with invaluable expert advice in the remote area medical field. Even prior to the inception of SHR, R2Ri worked closely with our founders and provided data for the world-first PhD in Prolonged Field Care (in association with the Institute for Risk and Disaster Reduction at University College London).

The organisation is deeply immersed in the expedition, adventure travel, exploration, disaster response and remote area operations sectors, and its faculty members have been involved in writing multiple leading sector safety standards. R2Ri's raison d'etre is:

"Education, Implementation and Support for Remote Area Safety and Duty of Care Practices Globally"

R2Ri have played an important role in training our analogue astronauts and operations teams in risk management and prolonged casualty, and have also provided specialist equipment for the Meili-I mission.




We asked Matthew Davies, Director of R2Ri, what he thought were the most important bits of medical kit for remote and extreme environments, such as space.

"A space mission is an expedition like any other, save in an unusual and unique environment." For Matthew, questions like where you are going, for how long, what you will be doing and how long you will be from help should form the basis of planning.

Matthew's three essential supplies on a mission to space would be a reliable, fuelled space craft, the R2Ri team and a great pilot… and lots of tea bags!

"Proper planning and training from genuine experts are key. Everything stems from that."




To find out more, visit R2Ri's website here.






CEO on Panel of 'Future of the Space Industry' with Former NASA Chief Scientist
---

︎ 5 August 2023

Our CEO and Founder, Myles Harris, was invited to take part in the 'Future of Space' event at King's College London, alongside NASA's ex-chief scientist Dr Jim Green. Myles was invited to be a member of the panel to represent Space Health Research, and as a subject matter expert in space exploration.


The event was organised by the King's Space Society to discuss key topics about the space sector, including health. It was held at Bush House's Auditorium on the Strand in London and brought together leading figures in the space sector.


Dr Jim Green was NASA Chief Scientist from 2018 to 2022. During this time, NASA began to transition into a new phase of commercial development. This will help to maintain NASA's presence in low-Earth orbit, however the venture has not been without controversy. The audience and panel had the chance to hear from Dr Jim Green, and ask questions.


For more information on Jim Green, please click

here

.


Myles spoke about the challenges of off-world living and the importance of using research about space exploration to catalyse initatives to benefit life on Earth. Myles' vision for Space Health Research is to provide access to analogue missions so academic and industry research can take place and work towards solving these challenges. During the panel Myles highlighted,



"there is only one Earth that we know about, so we need to look after it."
This was an important networking event which brought together experienced members of the space sector, as well as the general public, to discuss issues of the future. Thank you to King's Space Society for this opportunity!
Jim Green, former NASA Chief Scientist
Bush House, the Strand, London
Our CEO and Founder Myles Harris on the panel
Meili-I Continuous Geology Training
---

︎ 3 August 2023

Our analogue astronauts have completed 8 hours of online geology training with Arty Goodwin, geology study lead, in preparation for our 2023 analogue mission.


The next step in their training is a live practice weekend in Wales, where they will put their new knowledge to the test, by practising the geology data collection methods they have learned. This will ensure that they are fully prepared to engage in geological research on the upcoming mission. This kind of training represents a small-scale version of the preparations that NASA astronauts in the Apollo program took before performing geological experiments on the moon.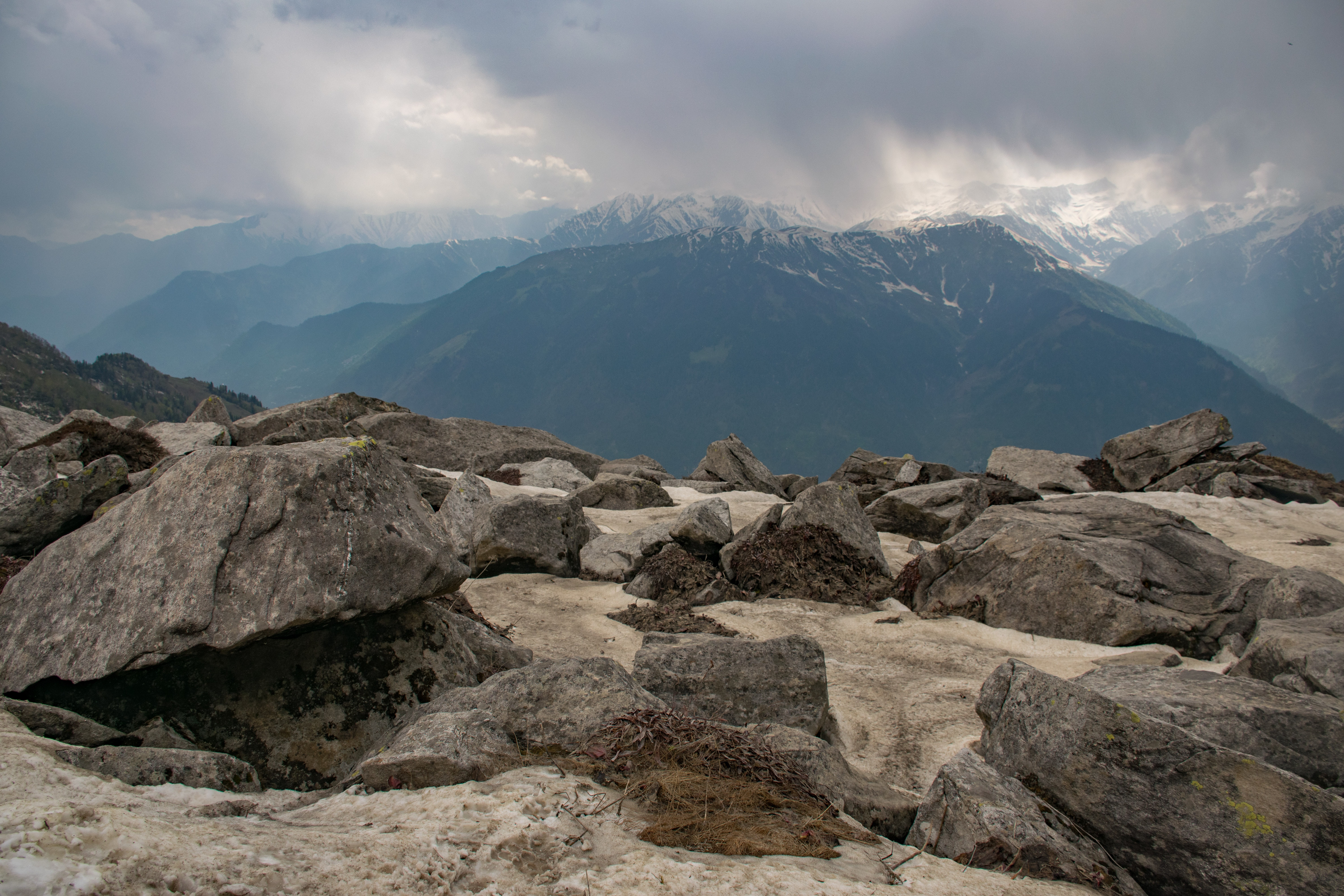 Here is what our analogue astronauts had to say about the training:


Gidon Gautel - Commander

"I've absolutely loved our geology training and I'm really looking forward to putting it into practice. It's been particularly fun for me to see field geology from an astronaut's perspective, and think hard about how to match research requirements with the broader resources of the mission and crew. It's given me a deeper appreciation of the intricate thought that must have gone into past extra-terrestrial geology on the Apollo missions, and will go into future missions on Mars and beyond."


Jack Gordon - Mission Specialist

"Coming from a physics background, my only experience with geology in a space context was reading about it in the Apollo Lunar Surface Journal. This training has definitely helped me to learn something completely new, and I'm looking forward to trying out practical field geology on the mission. It's also very rewarding to be a part of real geological research."



Announcing our Sponsor: Patchion LTD.
---

︎ 31 July 2023

Space Health Research is thrilled to announce that we are partnering with Patchion LTD, a leading business specialising in the creation of custom embroidered patches.

The embroidered patches will form an essential part of the Meili-I mission. Our Analogue Astronauts and Mission Control Team will be wearing them proudly as a symbol of unity, and the patches will inspire an important sense of belonging in a remote and extreme environment.

Embroidered patches are more than just adornments; they symbolise the unity and teamwork that drives the mission forward. We spoke to Pawel Nijakowski, Director of Patchion LTD, about this exciting new partnership.


How would you describe Patchion to someone who hasn't heard of it?

Patchion LTD is a prominent UK-based business specialising in producing personalised embroidered patches. They offer various options for custom-made patches that cater to multiple needs and preferences. With their attention to detail and commitment to quality, Patchion LTD has established itself as a reliable and reputable brand in the industry.

Patchion LTD's ability to transform any design or idea into stunning embroidered patches is what sets it apart. Whether it's a logo, a team emblem, or a unique artwork, their skilled artisans meticulously craft each patch with precision and care. They use state-of-the-art embroidery machines and high-quality materials to ensure the durability and longevity of their products. Patchion LTD prides itself on its excellent customer service and quick turnaround times. They work closely with their clients, providing guidance and support throughout the patch design and production process. Additionally, they offer competitive pricing options, making their services accessible to individuals, businesses, and organisations alike.

If you're looking for top-notch custom embroidered patches that perfectly represent your vision, Patchion LTD is the go-to company. Their commitment to delivering exceptional patches that exceed expectations makes them a trusted choice in the industry.




What was it about Space Health Research that made you keen to sponsor our analogue mission?
Sponsoring the Meili-I Mission Research Programme holds immense value for Patchion LTD. By sponsoring embroidered patches adorned with the Meili-I Mission logos, Patchion LTD not only gains visibility but also demonstrates a deep commitment to supporting the scientific community, particularly in space exploration. Patchion LTD's team firmly believes that investing in the science industry, especially space research, is crucial. By understanding the intricacies of space, we can gain insight into our planet, leading to a better understanding of its dynamics and challenges. This sponsorship aligns Patchion LTD with the pursuit of knowledge and fosters a sense of responsibility towards advancing scientific endeavours that ultimately benefit humanity as a whole.

Patchion LTD and the Meili-I Mission Research Programme share a common trait: "We had a dream". Recognising the importance of supporting one another, we have decided to contribute to their cause by sponsoring embroidered patches. We can positively impact the world by collaborating and uplifting each other's ideas. Together, we inspire and encourage others to pursue their passions and achieve their goals, fostering a community of dreamers and achievers.
What do you hope your generous donation will contribute to our mission?
Through the donation of embroidered patches, Patchion LTD hopes to contribute to the Meili-I Mission in multiple ways. While the patches themselves may seem small in the grand scheme, they play a vital role in enhancing the program's overall professional image. Patchion LTD aims to add a sense of unity and belonging among team members by providing custom patches adorned with the Meili-I Mission logos. These patches can serve as a symbol of pride and identity, fostering a strong team spirit and camaraderie. Additionally, the professionalisation brought about by the patches can have a positive impact on the mission's visibility and public perception, ultimately supporting the program's goals and objectives.
Space Health Research is very grateful to Patchion LTD for their dedication to delivering top-quality patches that perfectly capture the essence of our mission. Stay tuned for more updates.

Our CEO and Founder Myles Speaks to BBC Science Focus
---

︎ 1 August 2023


Myles was invited by BBC Science Focus to contribute as a subject matter in space health.


The article, linked

here

, is based on a recent study that has shown space travel literally changes how genes in white blood cells work. The rapidly decreasing strength of our immune systems is likely caused by 'fluid shift.' This is where microgravity causes blood plasma (containing white blood cells) to move up the body.


Astronauts that go on a 6 month mission, will recover fully within 1 year. However, with the expansion of the space industry, scientists must also develop ways to ensure safety for longer-term space travel. According to Myles, this "would also make valuable contributions to the design of personalised medicine on Earth."


Myles is honoured to have had the chance to raise this important issue and hopes that advancements continue to be made in this field. Here at Space Health Research, we are dedicated to simulating the exploration of space to benefit the health of people and the planet.
What Does Research From Meili-I and NASA Have in Common?
---

︎ 31 July 2023


The BBC has published an article announcing that 'Nasa scientists are collecting ancient rocks from the Isle of Rum because they are very similar to rocks on Mars.' This is extremely exciting for one researcher on our Meili-I Mission: Arty Goodwin.


Arty is a planetary geologist at the University of Manchester. They have been studying craters from meteor impacts on the Earth and Mars as part of their PhD. Arthur will be assisting the Meili-I Mission in August which will take place on an island on the West Coast of Scotland — a stone's throw from the Isle of Rum. Their study will focus on sedimentological units present on the island, including the Scarba Conglomerate Formation, a solid aggregate of pebbles and sand. They will be looking at how this type of rock preserves evidence for the high-energy submarine debris avalanche it was deposited by. The geological study will act as an analogue for ejecta layers thrown out of huge impact craters. In other words, the type of rock that is formed when a meteor impacts Earth or Mars. It will also inform how crews can best collect data to study them in remote locations. Excitingly, Arty's study has potential applications for astronauts looking at impact layers which may be visited during NASA's upcoming Artemis Program, as well as future missions to Mars. (Click the links to find out more).


Arty hopes to compare the data collected to actual Mars ejecta material which has been preserved in a unique Martian meteorite (Northwest Africa 7034 and pairs). This will help to understand the highly energetic processes that create impact ejecta and how to best characterize them — which could be important for the upcoming Mars sample return. (Click).
Arty's study has potential applications for astronauts... during NASA's upcoming Artemis Program, as well as future missions to Mars.
Picture of ejecta layer called the Stac Fada Member taken at Bay of Stoer, NW Scotland. The huge geologic diversity of the Scottish coastline provides numerous possibilities for research.
Remarkably, NASA researchers are also looking at rocks on the West Coast of Scotland. NASA found that rocks from the Isle of Rum are an "excellent comparison to those in the Mars crater" as they have a similar mineralogy as Mars basalts. The Rum rocks will be used to practice testing methods before rocks are returned from Mars in 2033. To read more about this exciting endeavour, click here to read the BBC article. It is encouraging to see that related studies are being made and the UK is playing an important role in international planetary discoveries.


This news is promising for Space Health Research as it indicates that through Meili-I we are providing our researchers, like Arty, with a location that can provide high-quality scientific testing and research. We look forward to the Meili-I analogue mission, which is now 12 days away!