Training the UK's next analogue astronauts
---

︎ 3 May 2023

︎ Written by Gidon Gautel

Gidon is Project Manager at BryceTech, an analytic consultancy focused on the space sector. He is passionate about fostering space exploration and commercial developments, and maximising their terrestrial benefits. This passion drives his work with the Deep Space Initiative, the Moon Village Association and training in Air and Space Operations with the Royal Auxiliary Air Force.



British Space Analogue Missions


I recently had the pleasure of participating in the training and selection weekend for Space Health Research's next space analogue mission. Applicants shortlisted for the role of analogue astronaut were invited for a challenging weekend in Wales' Eryri National Park. Designed to test the teamwork, problem-solving and fitness capabilities of prospective team members, the weekend focused on preparing candidates for the challenges of analogue missions and finding the best team for the research projects ahead.

The UK hosts a rich human spaceflight research ecosystem, a world-class space industry, and environments perfectly suited for exploratory analogue astronaut missions. However, it had not hosted such a mission until last year, when Space Health Research organised their first pilot. With the commencement of regular, rigorous, and research-driven missions in the UK, the potential for the country to host world-leading analogue research is incredibly exciting. Everybody at the training weekend felt this potential. Coupled with a collective love of a challenge, this led to a buzzing atmosphere as soon as everyone arrived at the campsite.
The potential for the country to host world-leading analogue research is incredibly exciting.
A pause during analogue astronaut selection weekend
Photo credit: Aaron Juchau
Choosing the Next Analogue Astronauts

Training and selection were held in Nant Peris, Snowdonia, near Yr Wyddfa. We arrived at the campsite on a Friday afternoon, using the evening to set up our tents and meet our fellow candidates. Our Saturday began at 06:00, when we prepared our kit for a day in the mountains and had our rucksacks examined by the SHR selection team, to assess our organisation and planning skills. The training cohort was then presented with the following quote, taken from ESA's 2021-2022 astronaut selection:
"Astronauts are highly skilled professionals who must be able to apply their considerable knowledge and expertise under circumstances of high stress and pressure, often being away from their families and regular social lives for extended periods."
This set the tone for the remainder of the weekend. We wanted to demonstrate our ability to perform as a team under pressure and show that we can thrive in a remote, extreme environment, with no outside contact, for two weeks.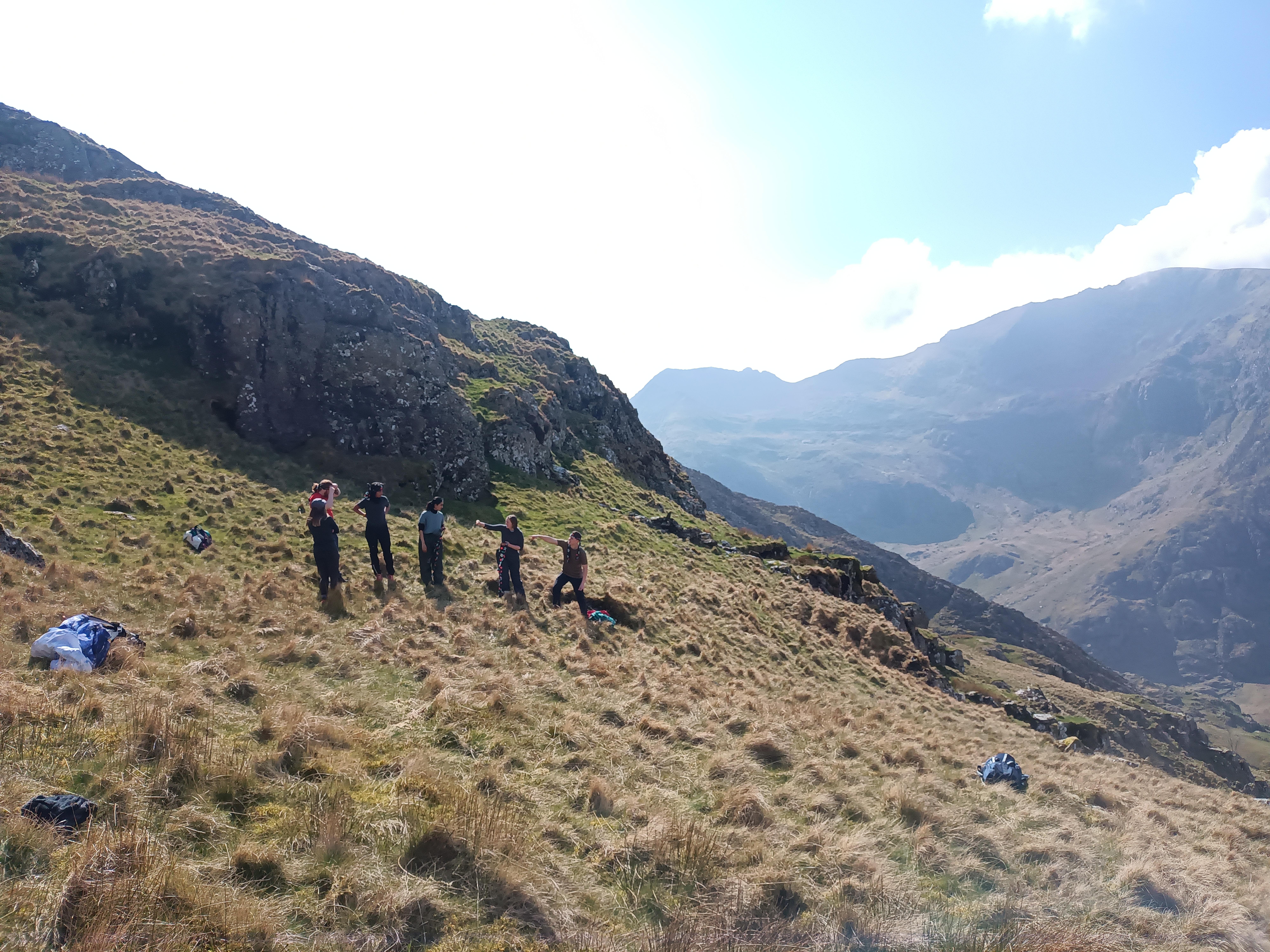 Planning, coordinating and coomunicating
Simulated patient care and extraction
Across the day, we hiked up the local peak and were presented with multiple tasks designed by the Space Health Research team. Each task tested different aspects of our ability to perform. One, for example, focused on planning and coordinating as a team in sub-optimal sensory conditions. Another tested the ability to act as both a good leader and follower depending on the context, both critical traits of analogue and extra-terrestrial astronauts. We were also assessed on our communication skills, as well as problem-solving with limited information, in suboptimal conditions and under pressure.

On the last day, we were given a final task testing our abilities to plan and conceptualise analogue missions and engage in public outreach. Finally, we headed our separate ways.
Shared Aspirations

The diversity in backgrounds of the candidate pool was remarkable, comprising paramedics, social scientists, engineers, physicists, astronomers, and more. As we left the gorgeous Welsh country, however, it was clear we were bonded by common goals: our desire to learn and innovate, our drive to face challenges, and our aspiration to see space research benefit life on Earth. As the UK's first analogue astronaut missions progress, they promise to fulfil all three and more.
Candidates in Eryri National Park
Photo credit: Rahil Baig
The final team of analogue astronauts will be selected later this month. The UK's next space analogue research mission is taking place in August 2023.